One eye sees, the other feels. | Paul Klee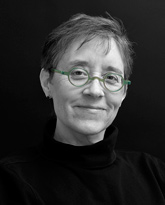 Her eyeglasses give her away. Slender, soft-spoken and conservatively dressed, Kathleen Herring is a quiet presence—until you notice her spectacles, which are bright green, orange or royal blue. They are the outward sign of a mind at once orderly, colorful, creative and quirky.
Those attributes are the foundation of Kathleen's 40-year career in graphic design, as creative director and vice president of public affairs and design firms in Washington, D.C. and Chicago, Il. She went solo with Kathleen Herring Design in 1995 and now lives in St. Louis, MO.
She has designed stamps for the U.S. Postal Service. She created the institutional-identity graphics program for Mount Vernon, home of George Washington, and the signage system seen throughout the John F. Kennedy Center for the Performing Arts. The National Symphony commissioned a series of posters—all witty—commemorating ten years of fund-raising recreational runs. Her love for all things Mickey Mouse came in handy for an event held at Disney World.
One client credits Kathleen's work with contributing to a 62 percent increase in enrollments over five years. Another says she "exemplifies professionalism" in both her creativity as a graphic designer and her execution as a project manager.
Her creativity has been recognized with more than 100 industry awards, including gold and silver medals from the New York Art Directors Club, AIGA, the American Institute of Graphic Arts, the Graphis Annual and the Communications Arts Design Annual.
Is there an overall theme to her work? It's there in the title of her one-woman show: "Communicating by Design."